We gather every weekend as a church to be inspired to follow Jesus. We would love for you to be our guest. Our worship services are a little over an hour. We sing together, study the Scripture, pray, and provide opportunities for you to connect with others. We're located at 5001 Newport Coast Dr, Irvine, CA 92603.
Now that you've picked a location, choose a time and an experience that meets your needs.
Pick a Service Time
Saturdays

4 & 5:30p*

Sundays

8:30, 10** & 11:30a
*Chinese translation available Saturdays at 5:30p on the Upper Lawn.
**ASL available Sundays at 10a in the Worship Center
Chapel service available Sundays at 10a.
We're Building!
When you visit us, you'll see construction work underway at multiple locations including a brand-new outdoor worship venue. Throughout construction, we invite you to join us for our regular weekend services at one of our worship venues and get a glimpse of what's to come!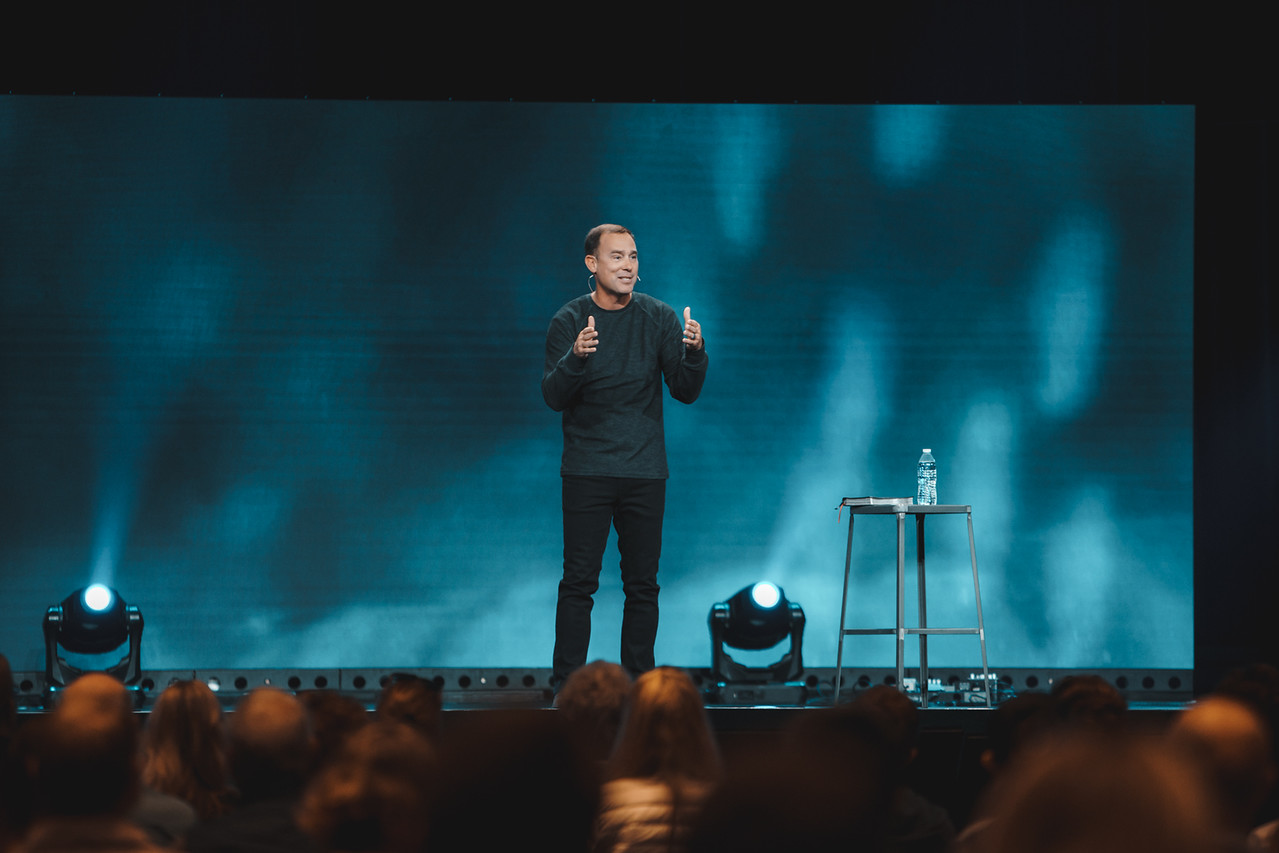 Pick a Service Experience
Worship Center: Live worship and teaching indoors.
Worship Center Foyer: A space designed for families with children to experience the weekend worship services live via monitors, with convenient access to restrooms, the bookstore, and the patio.
Upper Lawn: Live worship outdoors with the teaching broadcast from the Worship Center.
Chapel: A peaceful, reflective space to worship in an intimate setting, with an acoustic worship experience and broadcast message. Sundays at 10a.
Also Available for Kids & Youth:
Kids Building: Children can play, worship, and hear God's Word in their own age-specific classes inside the Mariners Kids building.
Youth Building: Junior high students gather for their own age-specific worship service.
Check out this map to find the best parking for your service experience.
For Kids
We're a church of all generations committed to reaching the next generation. Every Mariners Kids service is an adventure filled with surprises, fun, and laughter. We teach the truth of God's Word in really fun and age-appropriate ways!
We also know that kids need relationships to thrive. They need friends to encourage them and caring leaders to inspire them on their journey to know and love Jesus. That's why we provide excellent programming at all services, specifically designed for kids (ages 0 to 5th grade).
For Teens
Junior High
We provide an exciting program specifically designed for junior high students (6th to 8th grade) at all five Saturday and Sunday services. Junior high students enjoy games, music, fun teaching, and opportunities to connect with peers during weekend services. Currently, Junior High Ministry (JHM) meets in Rm 1 of the Youth Building.
High School
High School Ministry (HSM) students attend weekend services at the Worship Center, sitting together as one big group. HSM students are encouraged to look out for fun student events too.
Frequently Asked Questions
Where is Mariners Irvine located? We're located at 5001 Newport Coast Dr, Irvine, CA 92606. In other words, Mariners Irvine is located just off Culver, Bonita Canyon, Newport Coast Drive, and the 73.
What times are your worship services? Worship services on Saturdays begin at 4 and 5:30p. On Sundays, they start at 8:30, 10, and 11:30a. Come early for coffee and fellowship, then gather when the music begins!
Where is the best place to park? We have ample parking around our campus, all of which is conveniently located near our different service experiences.   
How do people dress for worship? There's no specific dress code at Mariners. So, you're welcome to dress however you're most comfortable! You'll see everything from "Sunday best" to casual among our adult congregants. Kids and youth usually wear whatever they would normally wear to school.
Is there someone who would pray with me? Of course! Simply find a Prayer Team member at the close of any service to receive prayer. If you're in need of healing prayer, our elders may offer a more private setting where you're anointed with oil (per James 5) for spiritual, physical, and situational healing.
How does Mariners Irvine accommodate physical disabilities? Mariners is blessed with parking and facilities that accommodate our guests' physical disabilities. All our parking lots include ramps, so street-to-facility access is very manageable. In our worship areas, we have space set aside for wheelchairs in the front row of our bleachers. Please ask an usher if you need to borrow a wheelchair. Our ushers are also happy to provide you with support. If you need an accommodation that we currently don't offer, please tell an usher, greeter, or member of our Guest Services Team in advance by completing this form.
Will I have to "do" anything? No. You're welcome to sit, observe, and experience a weekend service at Mariners without having to do anything. In other words, we encourage you to visit, and you're free to participate as much or as little as you like.
Do you provide nursery or children's classes on Sunday mornings? Yes! Learn more about Sunday morning Mariners Kids programs here.
How long are your church services? Our church services last approximately one hour.
Who can take part in communion? All Christians, regardless of denomination, may take communion with us at Mariners Church. We celebrate communion regularly and elements (bread and juice) are distributed upon entry to our various worship areas.
Do you identify visitors during worship services? No. We don't ask visitors to stand up or wear a badge during worship services. We take a personal approach to greeting visitors and encourage our guests to visit the Next Step area for a friendly, informative welcome.
What programs do you have for my children? Visit our Kids Ministry page and Youth Ministry page for an overview of the programs we have for the youngest among us.
What is your policy regarding service dogs? Pets? Mariners Church welcomes all guests, including those assisted by a service dog that is specifically trained to do work or perform tasks for a person with a disability. Guests with a registered service dog must register their service animal 72 hours in advance of attending a Mariners service by completing and submitting this registration form.
Guests who use a service dog must retain control of their animal at all times, attend an outdoor service experience (e.g., Upper Lawn), and keep their service animal on a leash or harness while visiting. Emotional support animals aren't recognized as service animals by Mariners Church (and the ADA). We apologize for this inconvenience, but Mariners Church is unable to accommodate emotional support animals and pets on our campus.
Still looking for an answer to your question? Email our Guest Services Team, and we'll respond to you as soon as possible (typically 1–2 days).